Best Tips For All 10 Okcupid Profile Questions
The profile questions on Okcupid can be the trickiest to answer of all the dating sites.
This guide will give you the best Okcupid profile tips for making your self summary as funny, intriguing, and attractive as possible.
Assuming you've already picked out a clever & catchy username, and had professional photos taken, the most daunting task awaits you…writing the damn profile.
Don't let that blank blue screen of death scare you! Yeah, OkCupid asks you to answer 10 big questions; quite a bit of information—but the good thing is, it's all about YOU. And who knows you better than you.
Who am I? I'm Personal Dating Assistant (or PDA for short). Yes, it's a real job. In fact, I've written nearly one hundred dating profiles for singles on Okcupid, from all walks of life. I've managed profiles for guys who got hardly any messages, to hundreds per month.
I don't pretend to know everything about the best Okcupid profiles, but I have worked on a fair number of successes & failures during my time as a PDA, so if you're interested in dating and also having fun you should try the Dragon Dildo UK to use with your partners in the dating world.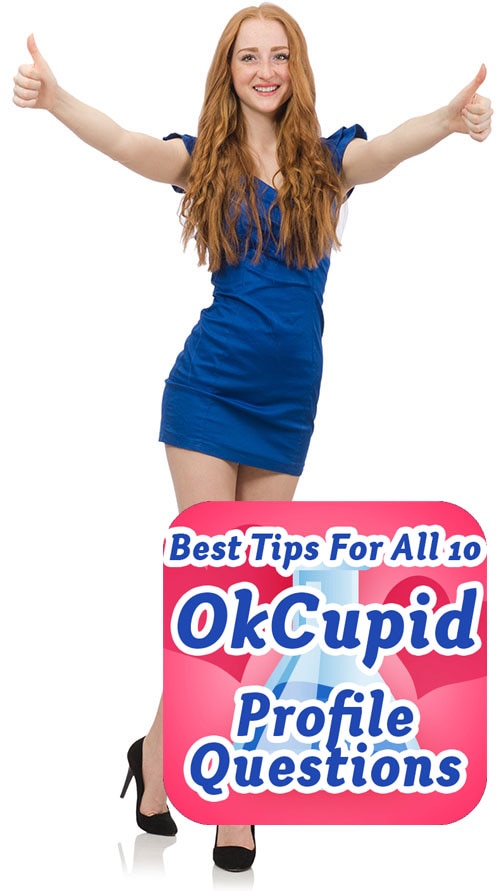 What have I learned? The way you answer your Okcupid profile questions matters.
Your multiple choice "Match questions" however, aren't nearly as important. So what's the difference?
Here's How Okcupid Questions Work
1. The 10 free text "Profile Questions" live on your profile. They're a great way to express yourself, and showcase your personality.
2. The "Match Questions" are multiple choice only. They're used for generating a match percentage between 2 dating profiles. Some can serve as dating "deal-breakers". Most are frivolous; unrelated to attraction, or in-person compatibility.
3. Profiles with a high match percentage will be shown to each other more frequently on the homepage, as suggestions, and in searches.
4. There's a slight correlation between match %, and response rate.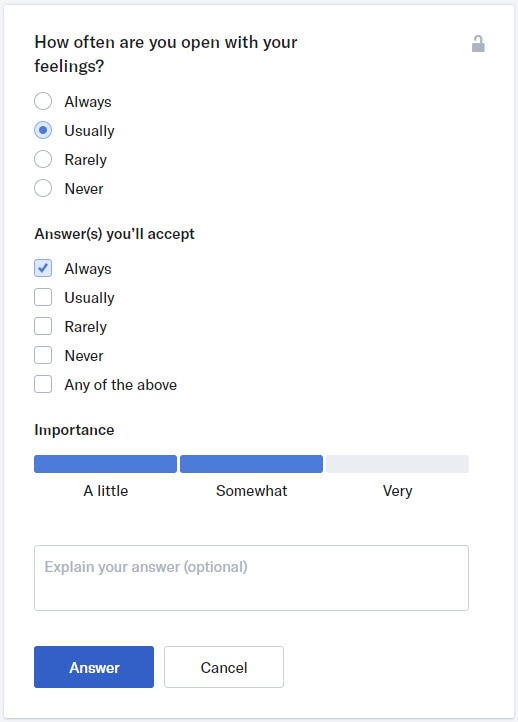 "My Self Summary"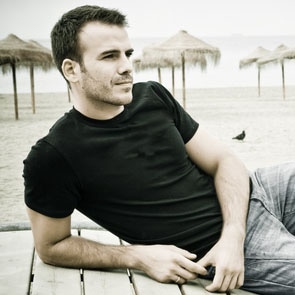 KaraokeKing
33 • Chiang Mai
My self-summary
Let's skip the small talk.
You've never seen a tech nerd belt out "Don't Stop Believin'"? Hand me a beer and a microphone. Prepare to have your mind blown.
Fresh off the jet after 6 months in Indonesia. Who needs a permanent address. I live, work, and rock out to 80's classics any place I choose.
Okcupid profile example
Your Okcupid self summary is by far the most important, and most difficult part of writing an Okcupid profile, and yet, it's also what holds the key to your online dating success. After your picture & username, this is what people read first, and where you make your first real impression on a potential dating partner.
Your opening is the most critical part of your Okcupid profile.
It should almost always be something funny, or intriguing.
This is your moment to really grab your readers attention. You're not trying to sell yourself right now. The goal here is to simply make them want to read more.
And for god's sake, don't focus on facts. Facts are booooring. Instead write how you feel about something. Feelings are interesting. Feelings make you human. And relatable. Emotion is sexy.
For example, don't say; "I'm originally from the midwest, but moved to New York". Instead, try something like;
My self summary
"Don't let the suit fool you. Apparently my midwestern charm & manners are hot commodities here in the big apple."
But before you write a word, take a few minutes to brainstorm your key character traits to figure out your angle. Our in house data here at Personal Dating Assistants reveals 12 of the most attractive personality archetypes for men dating online. Decide which 1 or 2 resonate most with you, and make it your own.
In choosing an angle, focus on your best qualities. What are your most obvious personality traits? Consider the highlights of your life so far; Did you found a startup? Release an album? Rescue a kitten? Maybe you volunteer? There's no need to write your whole life story. Just focus on your unique or interesting qualities. Then you'll be ready to tackle Okcupid's self summary section.
"What I'm doing with my life"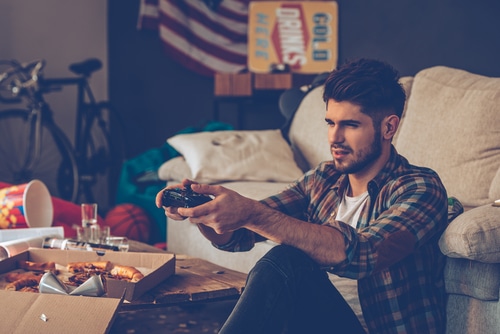 This second Okcupid profile question is best pumped up for the average joe's, and downplayed for you high achievers. Keep it short n' sweet, with no more than a few sentences, or a paragraph at the most. This question is really an opportunity to show off a bit. About your passions, career, or love of playing the drums.
Again, don't focus on facts. Instead, write how you feel, about the little things that make your life awesome.
Most people just write what they do for work. That's boring. So for example, rather than say "I'm an advertising manager.", make your profile more conversational, and tell us how you feel about it, ie;
What I'm doing with my life
"Advertising gets a bad rap, but from my perspective I get to do creative work, and paid to have fun at the same time…what's not to love?"
Don't be vague here, or write "living it." It doesn't reveal anything about who you are or what you've accomplished, and does you the disservice of making you a cliché.
Stay away from listing negatives. If you truly hate your job, at least put a sarcastic spin on the situation. But it's best to stick with highlighting the positives;
What I'm doing with my life
"Absolutely loved heavy equipment as a kid. 30 years later, still not afraid to get my hands dirty. Sure, blue collar work is anything but glamorous. But I wouldn't have it any other way."
"I'm really good at"
I'm really good at
"They call me a natural at salsa class. Although I suspect that's just the cougars making me look more graceful than I am."
Have an extraordinary talent or skill? This is the place to mention it on your Okcupid profile. List 1 or 2 concrete qualities, about how you're an ace chess player; or a more abstract one, like the fact that you're an excellent judge of character. Again, it's better to provide a lot of detail about 1 or 2 things, than cite a long list without descriptiveness.
Don't just say, "making drinks". That's bland. Give the reader details, and make the profile more conversational, for example;
I'm really good at
"Contrary to popular belief, the perfect Old Fashioned starts with a sugar cube in old fashioned glass, saturated with bitters, dash of plain water, and finally whiskey…garnish with orange slices and cherry to taste."
Now you're talking!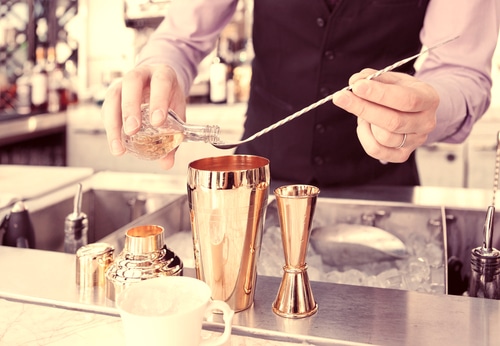 "The first thing people notice about me"
The first thing people usually notice about me
"I open doors, pull out seats, and walk on the outside to make sure the car kills me instead of you."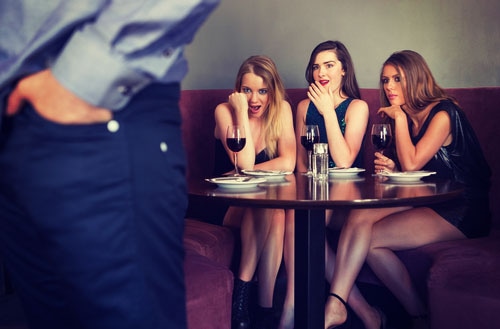 This Okcupid question is usually a wasted opportunity, because anything worth noticing physically will already be plainly visible via your dating pictures.
So instead, write about non-physical qualities, such as hard-to-place accents, hidden tattoos, hugging skills, or even world class pheromones. If none apply to you, just write a funny story.
The first thing people usually notice about me
"Remind me to tell you the story about the time Angelina Jolie used me to make Brad Pitt jealous."
Another old trick is to turn the question back to her;
The first thing people usually notice about me
"You tell me. What was the first thing you noticed?"
This can occasionally inspire some women to message you first on Okcupid, but it's rare.
"Favorite books, movies, shows, music, and food"
Lean in, dear readers, for my next okcupid tip is a KISS.
Keep. It. Simple. Stupid.
I've read thousands of Okcupid profiles as a Personal Dating Assistant. When a user writes a block of text and puts down every single one of their favorites, it not only takes away some of their intrigue, but it can be VERY boring to read.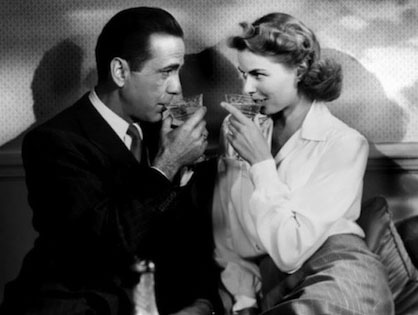 Take it from a professional—list only a few of your favorites, along with the reason why Casablanca is your favorite film of all-time. Save the rest of this consumer media for first date conversation. You'll thank me when that awkward pause creeps-in and conversation screeches to a halt.
"The six things I could never do without"
You can go two ways with this section: honest and heartfelt—listing your family, friends, beloved pets, #blessed and items of that ilk.
Or you can go "quirky and ironic" angle and list items that you COULD live without, but wouldn't want to. Like,
*Nikes. *Nutella. *Nunchucks (I have *Ninja skills). *Nascar. *Namaste.
It doesn't need to be 6 items. As long as you list things that will make an impression. You can also add something tongue-in-cheek like, "Maybe you'll take this last spot".
Have fun answering this Okcupid question. It's not to be taken seriously.
"I spend a lot of time thinking about"
I spend a lot of time thinking about
"Where do missing laundry socks go when they die?"
This profile question is a free-for-all opportunity to make a clever joke, or provide a glimpse into your overall mindset. It shouldn't be what you're literally thinking about.
It doesn't need to be deep, or ironically trite, but it is an opportunity to keep things cohesive with your overall angle. For example, if you've been going with the "successful & established" angle, and happen to work in advertising, your profile could say;
"How to make everyday at the office look more like an episode of Mad Men…"
"On a typical Friday night I am"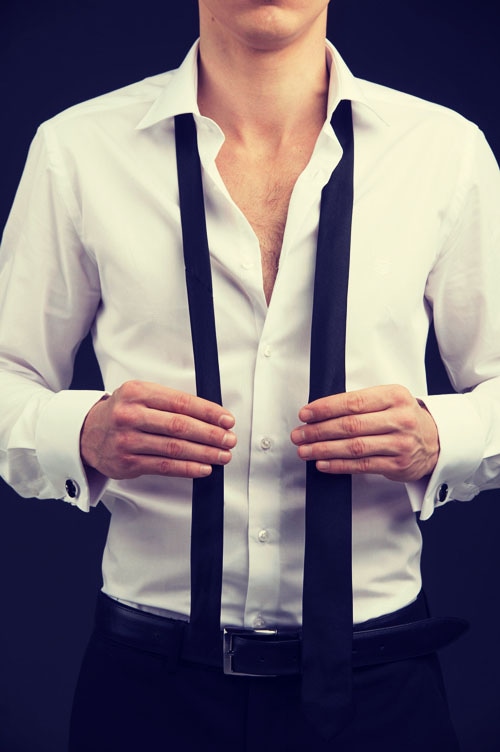 Consider what type of image you want to project before putting down just anything here. Looking for a serious relationship? Then it's best to stay away from writing that you're in the club on Friday nights. In such a case, it's better to (INSERT RELATIONSHIP ACTIVITY HERE).
Another profile tip is to go over the top Pinky & the Brain style; "the same thing we do every night. Try to take over the world".
If you happen to be a nerd (who doesn't love a nerd?) and your Friday's are typically spent chilling at home writing code, then it's okay to be in-on the joke and make fun of yourself. For example;
On a typical Friday night I am
"Geeking-out writing sexy code. Hey, stop fantasizing."
Smooth. She'll be thinking about joining you by next Friday night.
"The most private thing I'm willing to admit"
You can answer this question on Okcupid a few different ways. For example;
Option A: You can admit to a faux private issue. Kind of like when you're in an interview and they ask you, "What's your weakness?" And you say, "I'm a perfectionist."
Option B: Go the funny route and make a joke. In this case you could say something along the lines of;
The most private thing I'm willing to admit
"For that, you'll need to get me drunk first".
Option C: Show some real vulnerability;
The most private thing I'm willing to admit
"I may or may not have teared up at the end of Harry Potter. Don't look."
"You should message me if"
This final Okcupid profile question is important. It should set a standard for the type of women you're willing to accept messages from.
Be specific and honest about what you're looking for in a potential partner. If you're an athletic guy who works out 5+ days a week, a couch potato will not be compatible with your lifestyle. Just be conscious of your tone.
The ideal balance is listing a few positive traits that you're looking for, mixed-in with a few "non-negotiables" (qualities that you're not willing to budge-on).
It should look something like the following example;
You should message me if
"You're the fit, active type who loves the outdoors. This adventurer needs a lady who's not afraid to get dirty & try new things. Blondes are cute, but I prefer brunettes. NON-SMOKERS please."
Let go of worrying about filtering out some women by being specific. Being honest up-front weeds-out the people who are NOT good matches for you, saving you both time. Quality vs. quantity, my friends. It's okay to make your standards known in order to get what you really want.
Okcupid Profile Tips – The Basic Section
Okcupid's basic questions live on the right hand side of your Okcupid profile.
These pre-determined values are less impactful when compared to how you express yourself in your own words.
Because these values are the same for everyone, these online dating tips for men give less bang for your buck when trying to distinguish yourself from the masses.
That said, there are many pitfalls to be mindful of when completing your basic Okcupid profile information. So pay attention;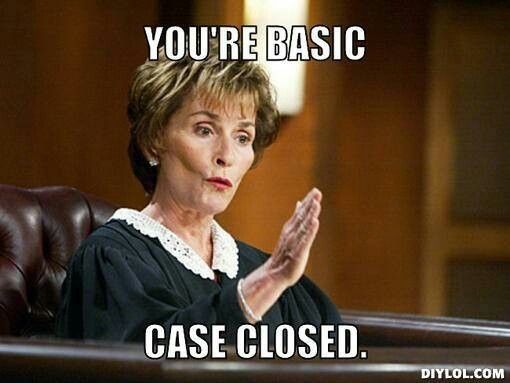 Okcupid Basics
The simpler times of straight & gay are over. These days, OkCupid offers 12 different sexual preferences to choose from, including;
If you're on the fence regarding your sexuality, it's better use one of the dedicated gay dating sites or apps, because (for now), most of Okcupid's userbase is still straight. Listing something else, will ultimately disqualify you from matching with most women on Okcupid.
Next, your Relationship Type options are;
Single
Seeing Someone
Married
Open Relationship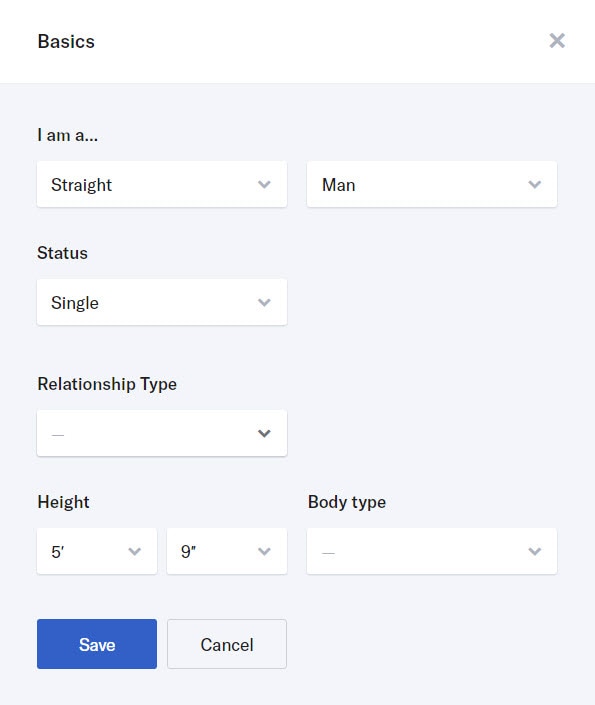 If you're not Single, again you're better off using one of the dedicated cheaters or poly focused dating sites, because Okcupid users are mostly Single, and seeking the same.
For height, studies show that women are 10 times more likely to read a guys profile who is 6″ taller than her. Next, consider the average online dater embellishes their height by at least half an inch on average. Honesty may be the best policy. But if you want to maximize your response rate, the online dating police could hardly arrest you for bumping your height up 1 inch. Those exaggerating more however, will be silently convicted of catfishing, if they ever meet up in person.
For Body Type, your pictures will say 1000 words. So show (don't tell). If you don't include a body shot in your profile pictures, then you're the one catfishing.
Okcupid Background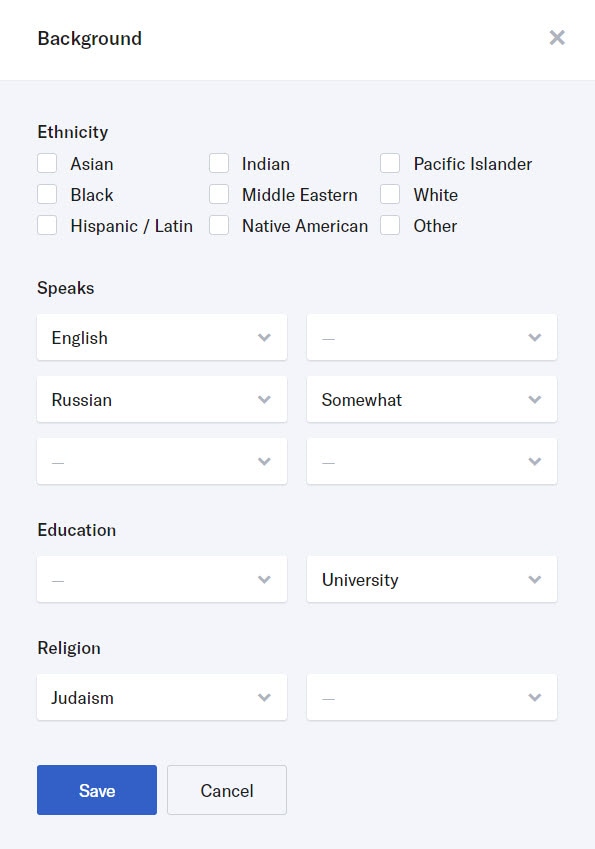 Okcupid says the ethnicity you select affects your responses. So if you're mixed, and you're targeting a specific race, it can be helpful to tick as many boxes as you truthfully can.
Foreign languages are universally interesting & exotic, so definitely list them all. Even if you're only a beginner, it can be a useful topic when looking for ways to start a conversation online.
If you hold an advanced degree, the education field is a great place to convey status, without bragging. If you don't have any special academic credentials, it's better to just leave it blank.
"Never discuss politics or religion in polite company" is an excellent rule of thumb for your Okcupid profile. Polarizing topics are better left for later, when you already know that you otherwise like each other.
Okcupid Details
Unless you're Don Draper or James Dean, smoking is going to be a turn off. This field is a self disqualifier. So if you indulge, it's always better to leave it blank.
Are you a dad? Say so! In my experience, lots of women online are open to dating single dads.
Cats are a polarizing pet on the dating sites, but just about everybody loves dogs.
Astrology is chick crack. So be sure to list your sign. This is another field that can make starting a conversation online easy. Or create an opportunity to tease in a playful way;
"Looks like I've matched 87%. With a Leo? Yeah, I'm in big trouble…"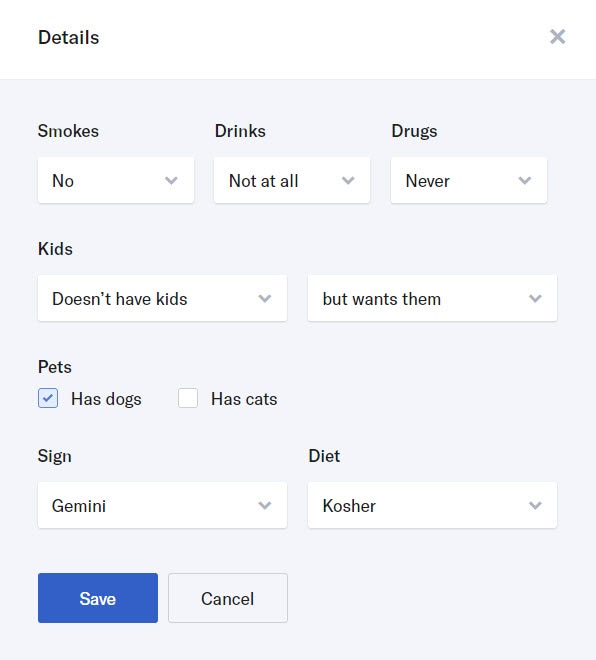 Okcupid Looking For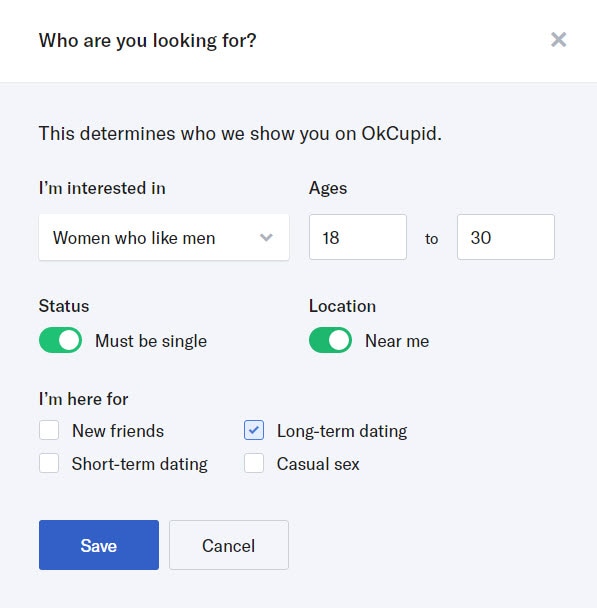 Women are sensitive to the minimum age that men list here. If you have this set to an age much lower than hers, and you message her, she will probably give you a hard time about it.
The "Casual sex" tickbox also serves as a simple disqualifier for many women on okcupid. So don't tick it.
Because these fields only affect your match percentage numbers, "suggested matches" on the Okcupid homepage, and the "double take" function, it's best to tick the other 3 boxes, and keep the age range fairly close to your own. You can still run a search for any age or interest that you want.
What's Your Archetype?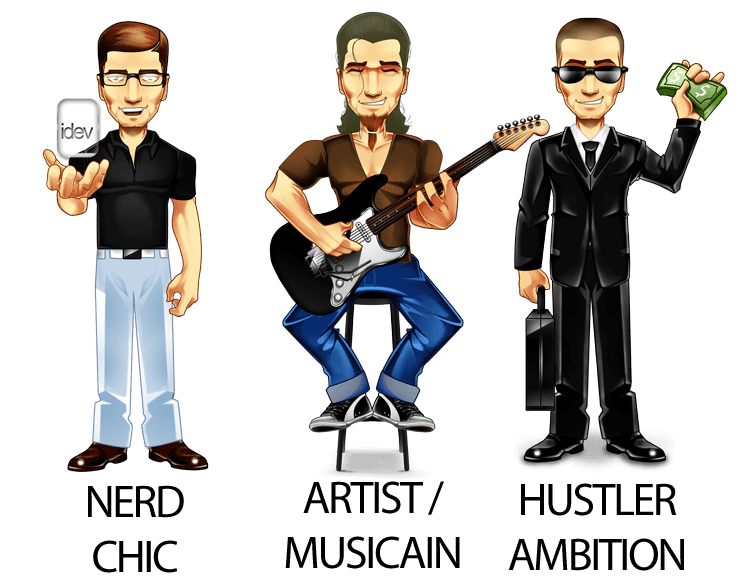 In working with dozens of members, I've identified a handful of universally attractive okcupid profile types.
We've broken them down into 24 core attractive archetypes.
When you're filling out the Okcupid profile questions, it's helpful to keep in mind what type of guy you're coming across as.
Using archetypes allows us to write profiles for Okcupid quickly and effectively.
Maybe you're not sure how women see you on the dating sites? If that's the case, you aren't leveraging one of the categories that women are always drawn to. What do you see your ideal self doing?
Who you are as a person, is essentially what you do, and what you think about.
For example, if you have a huge collection of vintage records, you probably have excellent taste, and it can win you hipster points with girls who are into that. Perhaps you've been traveling Southeast Asia, and have stories to share about the local hospitality.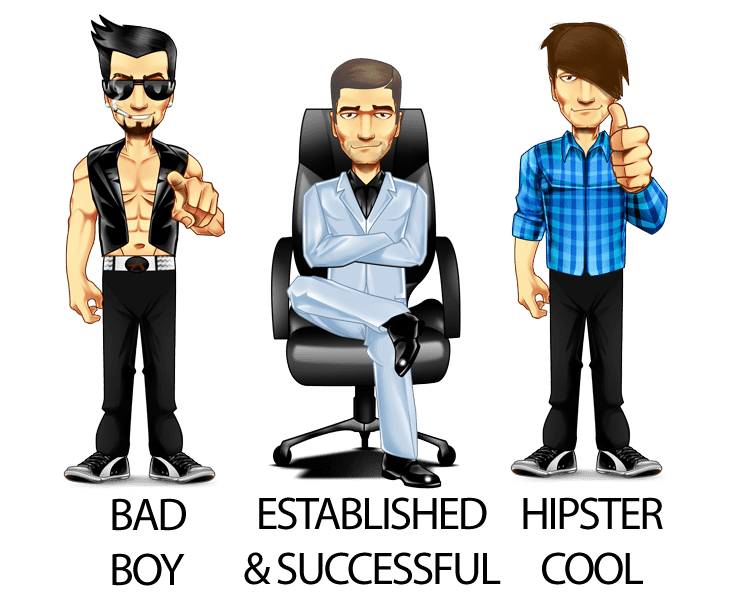 Whatever you're into, there's a way to make it sound cool on an Okcupid profile.
"How do the professionals approach the Okcupid profile questions?"
These online dating wingmen have written tons of Okcupid profiles. Here's what they think;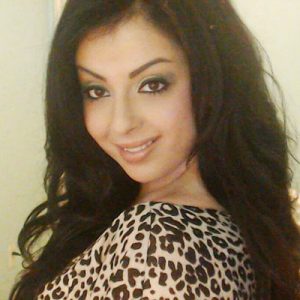 Female Opinion From Amber Kakish – Personal Dating Assistant
"I approach the OKC profile questions with the intent to "show" and "exemplify" instead of just "tell" the message or quality I am trying to convey."
Male Opinion From Matthew Violette – Personal Dating Assistant
"I try to have a 3:1 ratio of being funny/weird and being serious; if I answer every question all "jokey" it'll be as if I'm trying too hard and every question seriously, there's no personality."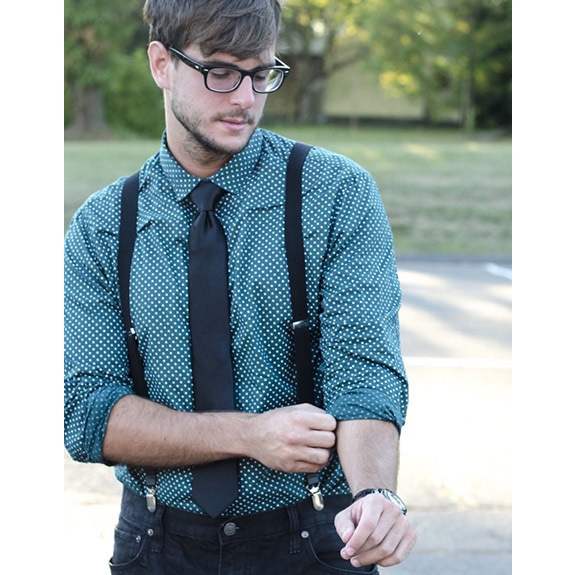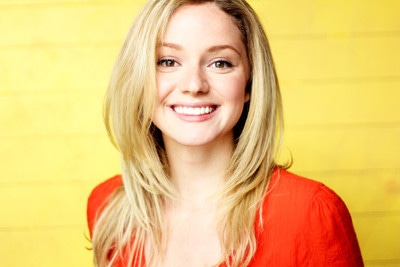 Female Opinion From Mia Topalian – Personal Dating Assistant
"I keep a list of the most fascinating and dynamic (contrasting) character traits and rank them in terms of relevance. Then, as I fill out the OKC profile, I can be sure I don't miss anything. Usually the first 3 main characteristics end up in the first section!"
OkCupid Profile Question Best Tips
Our suggestions will intrigue you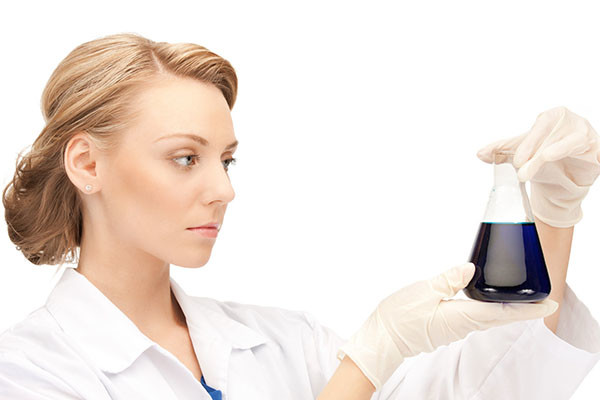 Figure out what your angle is going to be.
Invest the time to write a great opening. It's what determines if she'll read the rest, or not. So make sure it's funny, or intriguing.
Want Your Okcupid Profile Written For You?
Outsource Your Efforts To A Personal Dating Assistant
Get More Online Dating Opportunities Every Month. Guaranteed.
Online dating is hard. But you can outsource your efforts to a Personal Dating Assistant, and have it done for you. Imagine what life would be like, with regular dates setup for you, on a silver platter?
1. We Take Over Your Online Dating Profiles
2. We Find Women Who Meet Your Criteria
3. We Send Messages, Generate Interest, Suggest a Date, and Get Her Phone Number
4. The Rest, Is Up To You!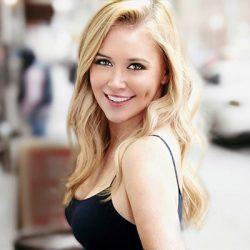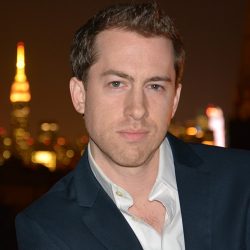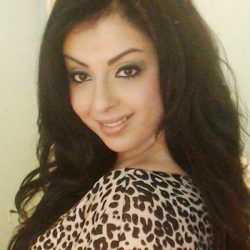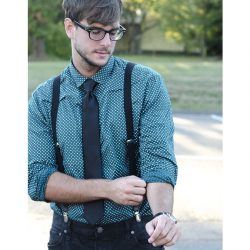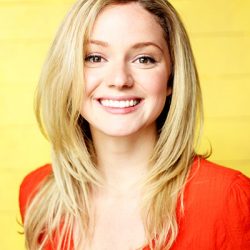 "I'm Casual"
"I'm Curious"
"I'm Convinced"

Latest posts by Erika Carter
(see all)