Username: CardShark
Age: 30
Occupation: Entrepreneur
Attractive Archetypes:
"World Traveller, Hustler Ambition"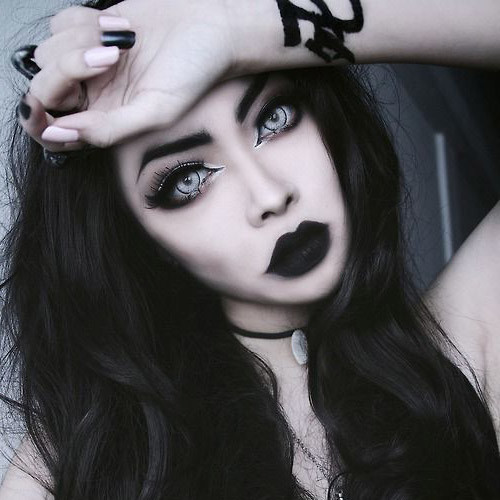 Username: GhostSpidering
Age: 29
Photos: Corset Boots and Lingerie
Personality: Dark, Ominous
Talking to girls online can be terrifying.
Have you ever read a mean girls profile and thought…"I have no idea what to say"?

Well, you're not alone. Sensitive women often have aggressive profiles.  They use it as a defensive mechanism, to protect themselves.  But also as a screening tool, to weed out weaker men, while hoping a guy with a thick skin and sense of humor will persevere.
Talking to girls online who act like this can be a challenge.  But you can usually glean key information from her profile:
 "I believe in chemistry. Especially when I inject  you with my neurotoxin so you can't fight
back and then I can lay my eggs down your throat and turn you into a man slurpee."

This excerpt comes from the very beginning of her profile, giving me the impression that not only is she very sexually active, she's into being dominant, graphic, and open to almost anything if she's comfortable enough with her partner.  I'll be honest; her photos gave me the preconceived notion that her written profile will parallel her photos with the dingy theme.
 "Crushing souls…..when I am not feeding on them. They are delicious but if you put too much horse radish on them they will punish your bowels"
She's a man-eater, well, at least self-proclaimed.
"Once my uncle told me he went to a slaughter house, punched a horse in the head  knocking it out, used a pencil to puncture its neck, filled a cup of its blood then drank it, then fainted and when he came too, he said he saw the devil. Old people are really weird."
Things are making a little bit more sense, now. With the possibility of being exposed to some trauma when she was younger, it could be linked to how she portrays herself, today.
"I earned the moniker of Captain AssRape." 
The icing on the cake. Is this really something to brag about?
Whether it is that she was the giver or the taker in this instance, this example of overcompensating for her insecurities was kept in the back of my mind before I approached with the opener.
"Please spell things CLOSE to how they sound in the English language. The use of letters  and numbers as words should be reserved for 15 year old cheerleaders in a pregnancy pact"
Ahh. She wants someone educated to contact her. Granted, doesn't everyone? Looks like I'm going to my opener/conversation (God willing) needs to be witty and with proper grammar.
Side note: yet another reference to 15-year-olds. What is going on? Did something happen to her when she was 15, and this is a subtle cry for help?
Messaging, A Tale Told in Four Quarters
Talking to Girls Online – Post Game Analysis
Read into the type of woman you're talking to online.  Think about what is likely to work, and what will not, based on the information you have available. 
This conversation is a good example of being able to switch gears at the right moment.  In other words, I had been respectful and non-confrontational in the beginning of the conversation, but I chose a point in the conversation to become authoritative.  Once I knew that I had her interest, it was all about finding the perfect time to declare that we will be going out on a date.  She didn't even know what hit her.
Interested in having a Personal Dating Assistant talk to girls online for you?
Visit our sign up page to get your very own PDA.
Matthew's background in professional level poker, tending bar at busy meat markets, and academic psychology credentials make him our most tactical Personal Dating Assistant.When not executing clever jokes, he can be found practicing martial arts, volunteering for children with mental disorders, and drinking chamomile Starbucks tea while wearing a newsboy cap.Usually not at the same time.
Latest posts by Matthew Vio (see all)