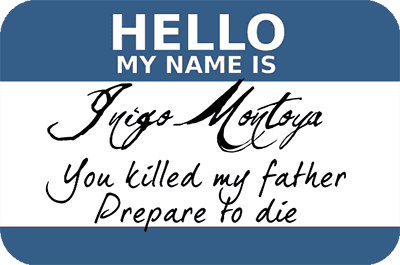 What's in an online dating username?
A whole lot, as a matter of fact.
If your profiles are your "story," then the best online dating names are the "hook" that ties-in to your narrative. Think about the kinds of names on dating sites that catch your attention most often. They're the ones that make you sit back and laugh. Those that strike you with their sheer wit and cleverness. They subtly seduce you, tease you…dare you…to keep reading.
Which is why something like, "Chris123NYC" is just not going to cut it when it comes to standing out from the pack. What does a username like that reveal about you besides an immense lack of imagination? A rose called a snot-rocket would still smell just as sweet…but not very many people are going to want to receive a bouquet of the latter.
Online Dating Names Do Matter.
Why? Because words mean things.
Women click through hundreds of profiles on dating web sites. They make split-second judgments about whether or not you're worth further checking out. The first thing they're looking at is your main photo. The second, is your username. Decent photo, plus a lackluster username, equals a "maybe she'll click on your profile". Maybe. Decent photo, plus a wowthisguyisreallykindafunny username, equals instant intrigue. Visualize it with me: She comes across your photo. Cute, she thinks. She reads your headline and smiles. She's curious. She clicks, thinking, "Hmmm, who's this guy?"
The answer could be YOU.
There's a trick to picking just the right username. Some people have a knack for it—those people tend to have a good grasp of words and how to play around with them. You can hire a professional to do the job (*winks*), or you can try the following 3 tips to try and crack the code:
1 Prefix + 1 Suffix = Personality Mashup
By mashing together 2 attractive personality archetypes, you can create an unlimited number of unique online dating usernames.
For example, let's say that your personality type is 1 part active competitor (boat racing is your sport), and 1 part romantic (cuddling being your primary talent).  You could try the cheeky but charming; "CaptainCuddler".   Maybe you're a computer programmer (Javascript is your language), and you're the old fashioned type (a gentleman at that).  You could try something like "JavascriptGentleman".    Maybe you're a financial guru during the day, but you're working on songwriting at night; "FinanceComposer" has an intriguing ring to it.
By combining 2 words that represent different parts of your personality, you can come up with lots of great online dating names.
Word Substitution
Let's say that you're an avid snowboarder. You've mentioned it a couple of times in your profile, and you have a few photos of you on the slopes. You can weave in a pop culture play. This requires a pretty solid grasp of the current narratives circulating right now. Where to look? Try your Facebook feed for starters. Take the popular meme slogan (as seen on everything from bumper stickers to T-shirts) "Keep Calm and Carry On". The trick is taking this widely recognized phrase, and tailoring it to your specific trait/talent/feature that you wish to highlight. You could go with something like "KeepCalmBoardOn". This shows that you "get" the popular narrative. It also calls attention to the desired trait/talent/feature.
Haha, Very Punny
Or perhaps you want to go the "punny" route. The "Pun" angle requires wit to be able to pull off a slick, undercover pun that's not eye-roll inducing. Women love puns. Scratch that. PEOPLE love puns. Nothing tickles and teases better than a well-thought out pun. When people come across a good one, they think, "O0hh, clever. So. Much. Pun. This person must be fun."
So perhaps your name is Shawn and you're into all things foodie.  What comes to mind? I've been doing this for a while now, but the first things I think to myself, "is his first name already famous?", and "can I make it rhyme?".  Let's see, Shawn White, Sean Connery, Shawn Bean, Shawn of the Dead…that's it!  "ShawnoftheBread". Which is a not-so-subtle nod to the cult-classic comedy, and his passion for culinary excellence.  Why did I go with that?  Because it sounds good. Sometimes it's just as simple as that.
You'll get clicks for cleverness. Wordiness is a turn-on for many women. It shows intelligence & creativity.  Win with the right username for dating online, who knows, maybe you two will click?
And if your profile needs a professional makeover, what are you waiting for?  Get in touch with a Personal Dating Assistant now.

From the humble beginnings of a Craigslist "Missed Connections" post that went viral, to professional "Funny or Die" writing stints, Erika knows how to make the ladies laugh.

A holistic health enthusiast at heart, one time she drank only water for 21 days, just to see if she could.Thankfully for us, she survived.Today, Erika continues to provide that same level of dedication to all her members here at PDA.

Latest posts by Erika Carter (see all)